Audio Devices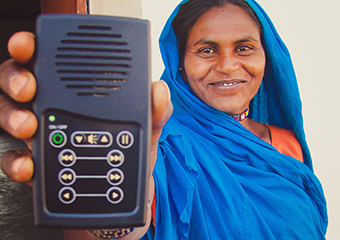 Technical Specifications
Manuals & Resources
The Envoy S
A lightweight, solar-powered MegaVoice capable of holding up to 500 hours of audio Scripture and humanitarian content.
The Envoy S – one of MegaVoice's most innovative and intuitive solar digital audio players yet. Cost effective and smaller than an iPhone, the 2.4 ounce Envoy S is lightweight and also the most powerful teaching and training tool available. The intuitive raised-button keypad with four levels of navigation makes searching hundreds of hours of audio Bible content easy and accessible – even for the elderly or blind.
The Envoy S comes with onboard memory, which is programmable through the USB port with the MegaVoice Smart Loading SystemTM, making it simple and secure for your ministry to update content. USB hubs allow for multiple players to be loaded at the same time.
The Envoy S holds up to 500 hours of tamperproof audio content including: audio Bible, New Testament, sermons, discipleship training, music, educational or humanitarian messages, and more. The optional Solar Case Speaker is recommended for larger groups listening.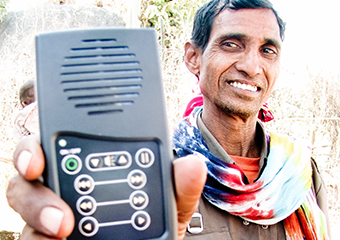 Technical Specifications
Manuals & Resources
The Envoy
A small, solar-powered digital audio player capable of holding up to 80, 160, or 320 hours of Scripture content.
Weighing only 2.3 ounces, and smaller than a Blackberry or iPhone, the Envoy is both lightweight and inconspicuous, making it ideal for distribution to oral learners living in places opposed to the Gospel. It comes equipped with built-in solar panel and replaceable battery, reducing dependence on external power sources.
The extended play version of the Envoy can hold an entire audio Bible and still have room for another 240 hours of tamperproof audio. Tamperproof simply means that Scripture content on your MegaVoice cannot be changed or deleted by end users, making your Scripture messages secure.
Create your own Bible-based message and the MegaVoice audio team will load it onto the Envoy for you. Augment your message with an audio Bible, New Testament, Story of Jesus, God's Story, the Mini Bible College, and portions of Scripture; or, choose from a selection of Scripture audio titles in the expansive MegaVoice Audio Library. Our online library is one of the largest Christian audio resources available today, carrying more than 8,400 messages in 4,615 languages and dialects.To see what content is currently available for your MegaVoice Envoy, simply Search Audio Library here. And be sure to visit this update page from time to time to see what has been recently added.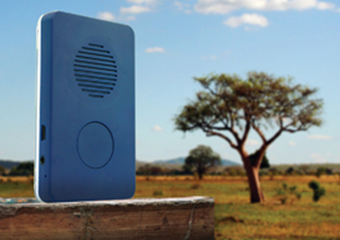 Technical Specifications
Manuals & Resources
The Story Teller
A solar-powered digital audio player, able to hold over 25 hours of audio content. Load your own audio content using your PC. Ideal for evangelism & Bible storying.
Listening to the message on a Story Teller is as simple as pushing a single button. Whether content is Bible stories, evangelistic messages, or educational material on AIDS prevention, a Story Teller impacts hearts and lives.
The low cost, lightweight, solar-powered Story Teller audio is simple for anyone to use – including non-readers and children. The single button navigation makes Story Teller ideal for evangelism and Bible storying. Easily load over 25 hours of tamperproof audio including: Bible stories, music, discipleship training, educational, humanitarian content and more.
Loading content has never been easier. Simply use your PC to organize your audio, then drag-and-drop your MP3 audio files to the Story Teller using ST software and MegaVoice USB cable.
Search the MegaVoice Audio Library here to preview thousands of pre-loaded languages and Scripture-based titles available for the Story Teller.
The technology used in this solar-powered digital audio player safeguards the integrity of your message by making it tamperproof. Tamperproof means no erasure or modification of your message by end users.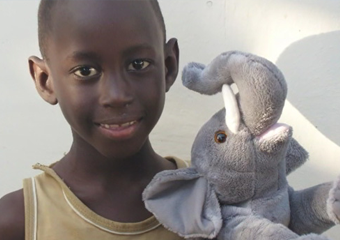 Technical Specifications
Manuals & Resources
Wildlife STORYTELLERS
Effective tools to share the Gospel and comfort children across the globe
How do you share the Gospel with a child who speaks a language you've never even heard of?
What can you give a young girl traumatized by sex trafficking and abuse?
How do you comfort an orphan who lost his mother and father to AIDS?
Give them something to hug and love that speaks to them in their own heart language from God's Word… give them a Wildlife STORYTELLERS animal
Wildlife STORYTELLERS — different soft, furry critters — share Bible stories with children and adults around the world in their own native tongue. The stuffed tigers, elephants, bears and others can be loaded with recordings in over 5,000 languages and dialects. When you place these animals in the hands of children and adults, it is a tactile reminder of God's love.
They are are unique, effective spiritual tools to help you and your ministry partners share the Gospel and give comfort to children across the globe. They were strategically developed to make a long-lasting impact on children around the world. From children of crisis to those who have never even heard of Jesus, they make an eternal difference.
Research shows that stuffed animals can bring physical and emotional comfort to children and adults who have experienced trauma and pain. The Wildlife STORYTELLERS will help children of poverty, disease and disaster around the world literally feel God's love, even as they hear about the hope He gives. And they can give any child the foundation of faith they need to grow into followers of Christ.